Get the Facts About These Royalty-free Songs
As of January 1, 2023, songs published before 1928 are in the public domain and do not require licensing for any use.
Make Sure It Is Public Domain
More often than not, songs are copyrighted, even if they seem really old. It can be tempting to assume a song is in the public domain just because it's old. But to do things properly, you need to be sure. The best way to know for sure whether a song is in the public domain is to submit it to us for a free search. We research the copyright holder for you so that you can be one hundred percent certain. If the song is in the public domain, we will tell you and you won't have to get a license. If it is copyrighted, you will feel good knowing you have done the right thing.
How to Research Public Domain Status Yourself
If you would like to research for yourself whether a song is in the public domain, here's how to do it:
First, try searching Wikipedia for the song title plus the word 'song' at the end. For example, if you want to search the Beatles song "Here Comes the Sun," enter the search phrase "Here Comes the Sun Song." This will help you find the Wikipedia song page. There, you can find the year the song was published. If the publication date is before 1928, the song is in the public domain. If you cannot find the song in Wikipedia, you can also try searching the databases at PDInfo.com and CPDL.org. Finally, Google is also a good resource. As long as you can find solid evidence that the song was published before 1928, you are clear. If you are playing from sheet music, please read the following paragraph to avoid complications with copyrighted arrangements of public domain works.
If You Are Playing From Sheet Music
Often publishers copyright their new arrangements of public domain works. If you use a copyrighted arrangement, you do need permission from the copyright holder of that arrangement. Often this is the case with choral arrangements of traditional classical works, so check the bottom of your sheet music for copyright information.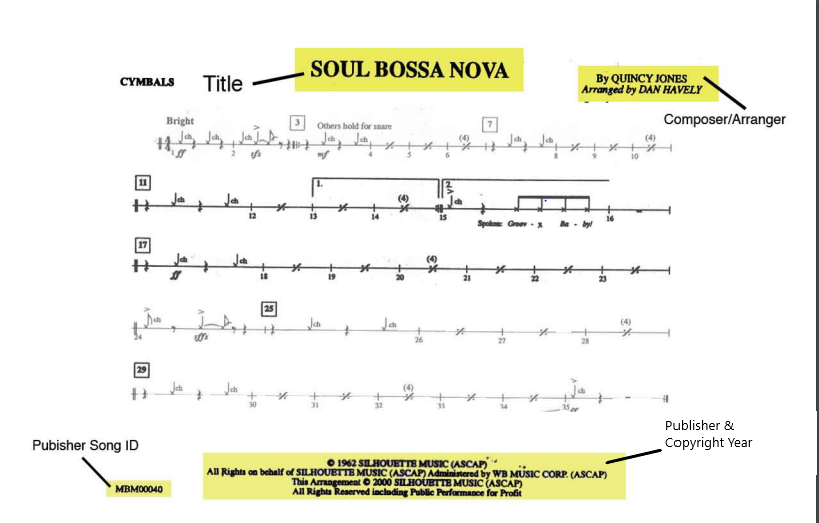 Sound Recordings
Public domain status for sound recordings is handled differently from songs (compositions). As of January 1st, 2023, all sound recordings published prior to 1923 are now public domain in the United States.
Additional Reading:
Christmas Songs in the Public Domain
Learn which Christmas songs are in the public domain and which are copyrighted.
Stanford University Article on Public Domain
This outstanding article explains public domain in more detail.
Cornell University Copyright Information Center
This includes a comprehensive guide for determining Public Domain status.
PDInfo.com
This web site explains public domain in further detail and has a good database of PD songs.
CPDL.org
A collection of free choral and vocal scores, texts, translations, and other useful information.
PD Hymns
An extensive list of public domain hymns.